Performance Solos for the Harp – $18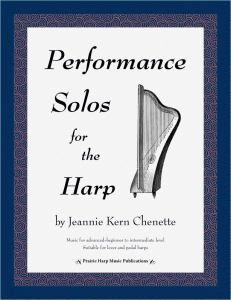 Students at the advanced beginner to intermediate level and professionals alike will appreciate these solos which fit under the fingers in such an idiomatic manner.  Glistening chords, lively syncopated rhythms, flowing melodies; this book has them all. Fingerings, placings, and lever changes are notated. Playable on pedal and/or  lever harps.
Fingerings and placements are given to aid technique and speed sight-reading.  This book is the perfect sequel to Progressive Solos   for the Harp. 
Go to the Listen page to hear selections from Jeannie's harp music collections.