JEANNIE KERN CHENETTE has been composing and arranging harp music since 2001, inspired by her students and her instrument.  Her publications provide creative and well-designed pedagogical works for beginning and intermediate players of all types of harps.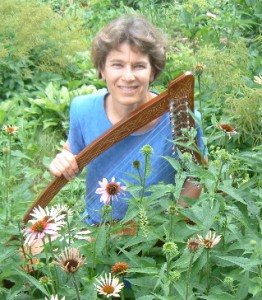 Ms Chenette is on the faculty of SUNY-Dutchess, teaching music theory and offering private harp lessons. She conducts private harp lessons and group ensemble sessions in her private harp studio in Poughkeepsie, NY.  She served on the faculties of Grinnell College, where she founded the harp studio and ensemble, and Iowa State University.  Her teaching utilizes conservatory technique as a basis for learning, but embraces historical and traditional instruments and their repertoire.
Receiving her early training on pedal harp, Ms. Chenette received the M.M. in Harp Performance from New England Conservatory. She served as principal harpist and soloist with the Cedar Rapids Symphony and as harpist with the Des Moines Symphony. She is a founding member of  New Prairie Camerata chamber ensemble.
She began her study of  world harp traditions during residencies in the British Isles and Ireland in the 1990′s, and built upon this experience by working with masters of the Paraguayan harp and the West African kora.  She incorporates her knowledge of diverse harp styles in her teaching, arranging, and composing.